Yanis Varoufakis
Yanis Varoufakis (born 24 March 1961) is a Greek economist, academic and politician, who served as the Greek Minister of Finance from January to July 2015, when he resigned. Varoufakis was also a Syriza member of the Hellenic Parliament (MP) for Athens B from January to September 2015.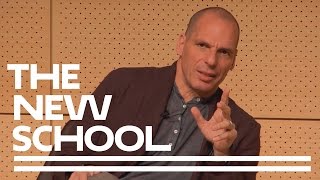 119 minutes
We all know Varoufakis as the former Greek Finance Minister and media sensation who stood up to Europe in the fight against austerity. His lecture will discuss themes from his new book, "And The Weak Suffer What They Must?," including the origins of a crisis that has affected not only Greece, but all of Europe. <br> The Robert Heilbroner Memorial Lecture on the Future of Capitalism: The Heilbroner lecture honors the work of Robert Heilbroner, who was both a student and a professor in the economics department of The New School for Social Research. This event is dedicated to understanding questions of economic justice and how the profit-seeking activities of private firms might also serve broader social goals. To use Heilbroner's words, "capitalism's uniqueness in history lies in its continuously self-generated change, but it is this very dynamism that is the system's chief enemy."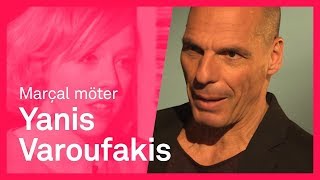 32 minutes
What happened in Greece during the crisis? And what happens when you take on the establishment? In this extensive interview, former finance minister of Greece Yanis Varoufakis, talks about his new book Adults In The Room – My battle with Europe's deep establishment.