Robert McNamara
Robert Strange McNamara was an American business executive and the eighth Secretary of Defense, serving from 1961 to 1968 under Presidents John F. Kennedy and Lyndon B. Johnson.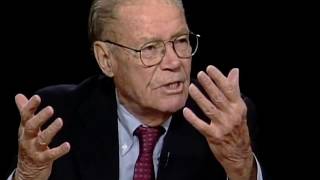 Robert McNamara:
On Fog of War: Errol Morris and Robert McNamara interview (2003)
52 minutes
Director Errol Morris and former Secretary of Defense Robert McNamara describe their documentary "Fog of War" which follows the life of McNamara and his experience in modern warfare.
83 minutes
Robert Strange McNamara (June 9, 1916 -- July 6, 2009) was an American business executive and the eighth Secretary of Defense. <br>Although he was a prime architect of the Vietnam War and repeatedly overruled the JCS on strategic matters, McNamara gradually became skeptical about whether the war could be won by deploying more troops to South Vietnam and intensifying the bombing of North Vietnam, a claim he would publish in a book years later. He also stated later that his support of the Vietnam War was given out of loyalty to administration policy. He traveled to Vietnam many times to study the situation firsthand and became increasingly reluctant to approve the large force increments requested by the military commanders. <br>McNamara said that the Domino Theory was the main reason for entering the Vietnam War. In the same interview he stated, "Kennedy hadn't said before he died whether, faced with the loss of Vietnam, he would [completely] withdraw; but I believe today that had he faced that choice, he would have withdrawn."