Kevin Kelly
Kevin Kelly (born August 14, 1952) is the founding executive editor of Wired magazine, and a former editor/publisher of the Whole Earth Review. He has also been a writer, photographer, conservationist, and student of Asian and digital culture.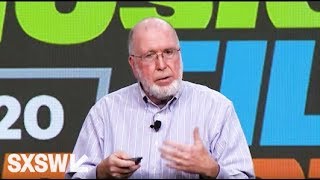 Kevin Kelly:
On 12 Inevitable Tech Forces That Will Shape Our Future at SXSW 2016
55 minutes
In a few years we'll have artificial intelligence that can accomplish professional human tasks. There is nothing we can do to stop this. In addition our lives will be totally 100% tracked by ourselves and others. This too is inevitable. Indeed much of what will happen in the next 30 years is inevitable, driven by technological trends which are already in motion, and are impossible to halt without halting civilization. Some of what is coming may seem scary, like ubiquitous tracking, or robots replacing humans. Others innovations seem more desirable, such as an on-demand economy, and virtual reality in the home. And some that is coming like network crime and anonymous hacking will be society's new scourges. Yet both the desirable good and the undesirable bad of these emerging technologies all obey the same formation principles.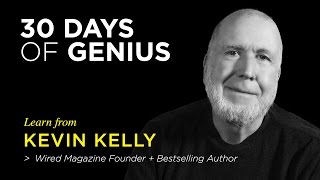 73 minutes
Chase Jarvis welcomes Kevin Kelly as his guest on 30 Days of Genius, a special series of Chase Jarvis LIVE featuring the world's top creative + entrepreneurial minds of our time. Kevin Kelly takes the long view on creativity and technology. Join the visionary idea man and technologist as he talks about applying the creative genius you have to the technology and possibilities of the present.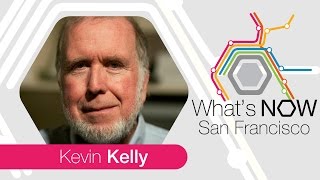 73 minutes
Much of what will happen in the next 30 years is inevitable, driven by technological trends that are already in motion. In his provocative new book, Kevin Kelly provides an optimistic road map for the future, showing how the coming changes in our lives—from virtual reality in the home to an on-demand economy to artificial intelligence embedded in everything we manufacture—can be understood as the result of a few long-term, accelerating forces.<br>Kelly describes these deep trends—flowing, screening, accessing, sharing, filtering, remixing, tracking and questioning—and demonstrates how they overlap and are codependent on one another. He says that these larger forces will revolutionize the way people buy, work, learn, and communicate with each other. By understanding and embracing them, says Kelly, it will be easier to remain on top of the coming wave of changes and to arrange our day-to-day relationships with technology in ways that bring forth maximum benefits.<br>Kelly engages people who seek guidance on where their business, industry, or life is heading—what to invent, where to work, in what to invest, how to better reach customers, and what to begin to put into place—as this new world emerges.