Jeff Bezos
Jeff Bezos (born January 12, 1964) is an American technology and retail entrepreneur, investor, and philanthropist who is best known as the founder, chairman, and chief executive officer of Amazon.com, which is the world's largest online shopping retailer. The company began as an Internet merchant of books and expanded to a wide variety of products and services, most recently video streaming and audio streaming. Amazon.com is currently the world's largest Internet sales company on the World Wide Web, as well as being the world's largest provider of cloud infrastructure services, through its Amazon Web Services arm. Bezos is currently the richest man in the world
47 minutes
An older interview with the current richest man in the world Jeff Bezos. In this interview Jeff discusses his thinking behind Amazon and how he got it started. Jeff also goes on to talk about growing up and how he feels lucky at the teachers and opportunities he had. Some invaluable wisdom given by Jeff is his idea that you should view big decisions as your eighty-year-old self, by doing this you will see if that fear at present time is really warranted. <br>0:13 When did you get the idea to start Amazon? <br>0:40 What enabled you to act on that insight? <br>2:26 What did people say when you quit your job to start our own company? <br>5:34 Starting from zero?<br>12:56 Fundraising?<br>14:04 Assessing the odds? <br>15:50 Growing up?<br>24:52 How did you get along with your siblings?<br>26:23 Princeton University?<br>31:04 What did you plan to do when you left Princeton?<br>32:55 Challenges of a growing company?<br>35:25 Dealing with stress?<br>37:18 What about this work gives you the greatest satisfaction?<br>38:46 Advice for the young?<br>41:35 The responsibility of success?<br>42:58 What's important to you and why?<br>45:34 Concerns over technologies role in our lives?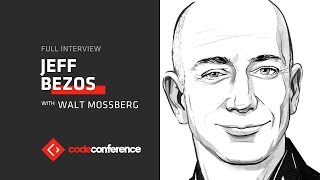 Jeff Bezos:
On Peter Thiel and Donald Trump at Code Conference
80 minutes
Amazon CEO Jeff Bezos talks with The Verge's Walt Mossberg about the "gigantic" potential of artificial intelligence to change everything from shopping to self-driving cars. Bezos also discusses his purchase of the Washington Post in 2013, which he says is transforming from a local to a global institution. He explains why he opposes both Peter Thiel's campaign against Gawker Media and Donald Trump's attempts to "freeze or chill" press scrutiny. Plus: Why Bezos's other company, Blue Origin, is trying to lower the cost of entrepreneurship in space.
36 minutes
Amazon.com Founder & CEO Jeff Bezos gives wise advice on how to start up a business in a series of clips. This video includes:<br>-Amazon's customer focus<br>-Long Term Strategy in business - for businesses such as Kindle or Amazon Web Services (AWS)<br>-Building a flywheel to bring customers and revenue for the long-run<br>-On Massive Investment in Infrastructure and Employees<br>-Corporate Structure & Management<br>-Hiring A Team<br>-Startup Success vs failure<br>-Differences in Internet and Physical Retail Stores<br>-On Luck & Diligence