Rhonda Patrick
Rhonda Patrick, previously Rhonda Perciavalle, is an American biochemist and CEO and founder of the website, foundmyfitness.com. Patrick obtained her undergraduate degree in biochemistry from the University of California, San Diego and her earned her PhD from University of Tennessee Health Science Center in 2012. Her graduate studies investigated the link between mitochondrial metabolism, apoptosis, and cancer and her dissertation was published in Nature Cell Biology.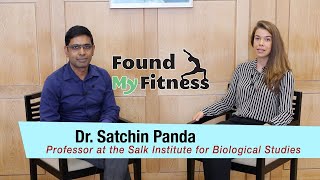 Rhonda Patrick:
With Dr. Satchin Panda on Time-Restricted Feeding and Its Effects on Obesity, Muscle Mass & Heart Health
91 minutes
Dr. Rhonda Patrick speaks with Dr. Satchidananda Panda, a professor at the Salk Institute for Biological Studies in La Jolla, California. Satchin's work deals specifically with the timing of food and it's relationship with our biological clocks governed by circadian rhythm and also the circadian rhythm in general. <br>In this video they discuss...<br> The fascinating history of experimentation that ultimately elucidated the location for the region of the brain necessary for a properly timed sleep-wake cycles.<br>The relationship between our body's "master clock" and it's many peripheral clocks.<br>Why infants sleep so intermittently, instead of resting for a longer, sustained duration like healthy young adults... and why this sustained rest also goes haywire in the elderly.<br>The fascinating work Dr. Panda took part in that lead to the discovery of a specialized light receptor in the eye that sets circadian rhythms and is known as melanopsin.<br>The important relationship between the relatively light insensitive melanopsin, which requires around 1,000 lux of light to be fully activated, and its control of the circadian clock by means of activation of the suprachiasmatic nucleus and suppression of melatonin.<br> The effects light exposure seems to have on next-day cortisol, a glucocorticoid hormone that regulates around 10-20% of the human protein-encoding genome. <br> The clever experimental design by which Dr. Panda and his colleagues discovered that certain circadian rhythms, especially of the liver, are entrained by when we eat, instead of how much light we get. This underlines the fact that, when managing are circadian rhythm, both elements are important!<br> One of the more surprising effects of time-restricted feeding in mice eating a so-called healthy diet: increases in muscle mass and even endurance in some cases.
Rhonda Patrick:
On sulphoraphane, antidepressants, heat/cold exposure and more at Joe Rogan Experience #901
176 minutes
Rhonda discusses sulphoraphane, antidepressants, effects of heat/cold exposure and much more in this extended discussion with Joe.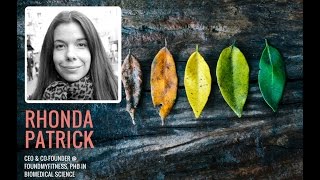 65 minutes
Dr. Rhonda Patrick is one of the world's top experts in health and nutrition. Learn more about anti-aging, nutrition, health benefits of heat alteration such as sauna and thesecret ingredients Dr. Rhonda Patrick throws in her breakfast every morning. Also tips for pregnant mothers in terms of nutrition.