Jocko Willink
Jocko Willink (September 8, 1971) is an American podcaster, author and retired United States Navy SEAL. He received the Silver Star and Bronze Star for his service in the Iraq War. Willink was commander of SEAL Team Three's Task Unit Bruiser during the Battle of Ramadi. Other notable members of Task Unit Bruiser included Leif Babin, Marc Alan Lee, Michael Monsoor, Kevin Lacz and Chris Kyle.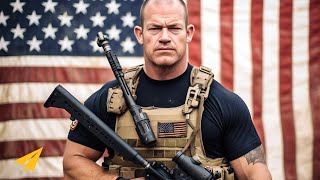 40 minutes
Evan Carmichael & master of attitude Jocko Willink collaborate on a truly inspirational video.<br>-= JOCKO'S RULES =-<br>1. ATTACK<br>2. Have discipline<br>3. Take action NOW<br>4. Turn weaknesses into strengths<br>5. Be focused<br>6. Kill the quitter instinct<br>7. Take advantage of stress<br>8. Just do it<br>9. Step towards your fear<br>10. Practice every day<br>-= BONUS =-<br>* Learn from criticism<br>* Don't let regret beat you down<br>* Appreciate the gift of life
Jocko Willink:
On Military Experiences and Motivation at Joe Rogan Experience #962
172 minutes
Jocko Willink is a decorated retired Navy SEAL officer, author of the book Extreme Ownership: How U.S. Navy SEALs Lead and Win, and co-founder of Echelon Front, where he is a leadership instructor, speaker, and executive coach. This is an extended discussion with Joe Rogan that serves as a great introduction to Jocko's background and M.O.